The Game is On! : 31st May – 11th June 2021, Halle (Saale)
Together with the social arts organisation Jonglirium we're organising an Exchange and artistic research and training on the topic of physical games. Read the call for participants:
A 10-day training & reasearch on physical games and why, when, where and how to play them. Calling for participants from France, Germany, Italy, Spain and Slovenia and Poland!
Who?
Calling for Participants from: Italy, Germany, Slovenia, Poland, France, Spain (Participants from other countries are welcome to apply – their applications can be taken into account if there are a few places left and we find an agreement with our partner organisations.) We are searching for participants who want to: • strenghten their connection to their playfullness • experience a community setting and outside camping within a big group • get to know a wide variety of games research on how to apply and adapt them • know how to prepare and lead group game activities • strengthen thei social competences through working in an intercultural setting • give input into the training, take part in the daily tasks of the training and share knowledge, skills and experience.
What?
As a group we will explore the power of games and their use in various settings. How do they build trust? Solve conflicts? Question ones self? Create a group? Entertain? Connect? Be a tool for sharing? Transforming? Growth? Working through difficult topics? Or simply for fun? We will play a lot! We will share a lot. Our knowledge and our thoughts… We will explore, deconstruct and analyse games of various types: Whats behind the games? What is the structure of a game? What is play? We will learn and practice leading games. We will eventually create and customise our own games for various situations. The training sessions will be lead by the two trainers. There will be also free time to do whatever together (there a 3 kajaks, lots of bikes and a beautifull surrounding with hills, lakes and cliffs to climb).
Project Location
The space where we will live and work together will be Gut Alaune e.V. which is situated between calm Saale river and rough porphyry canyons in a nature reservat close to Halle/Saale (Saxony Anhalt). It's a project and living space just outside the city that a little community is setting up since the beginning of 2016 – so some stuff is a little improvised.
Trainers
Richard Kimberley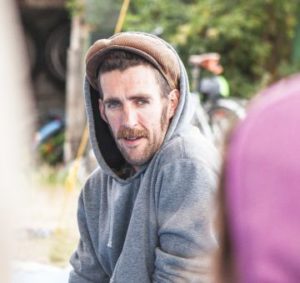 has been teaching and performing internationally for 10 years. After traveling for 5 years working with social circus and environmental projects he completed studies with clown guru Philippe Gaulier at his school in France. Majoring in theatre, clown, vaudville & bouffon. He studied clown in Spain with Hernan Gene and Gabriele Chame. Trained Mask Movement Theatre in Italy with Matteo Destro and Paula Coletto. Learnt directing and devising techniques from 'Told by and idiot' with Paul Hunter. Ensemble and Puppetry work with Complicité. In between continuing broadening his clown knowledge with SpyMonkeys Aitor Basauri & Tobi Park. Vivian Gladwell & Angela Hopkins at Nose to Nose. In 2019 he dove into the pedagogic field with Giovanni Fusetti. Along with training pantomime, music, circus, movement and acrobatics. In the start of 2020 Richard trained puppetry extensively in Sarah Wrights 'Curious school of puppetry' Richards personal creative work, performing and teaching goes under the name "From The Playns". He is artistic director and producer of Barada Street a street theatre company that performs at theatre & music festivals around the world. He co created and toured with Plague of Idiots in UK and Australia. Richard recently started working with Clowns Without Boarders UK bringing laughter relief to conflict zones worldwide. As well as teaching theatre workshops, he facilitates and hosts various artistic and group projects with Jonglirium e.V and Nomadways. His work is fuel by the exploration of games and connection the search for where one has pleasure, forwhere one isbeautiful and vulnerable, why one is special. Richard currently is living in and building an artistic living community in Germany and working on some new show ideas and workshop creations in between touring, teaching,living & loving.. oh and eating museli. www.fromtheplayns.com
Anne Merlin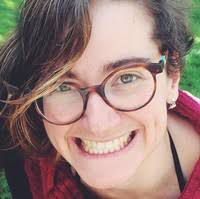 Anne is a creative explorer. Whilst studying visual arts and interaction design in France, she discovered game dynamics through creative coding and interactive books. Excited about the whole thing, she co-founded Nomadways (www.nomadways.eu) in 2014, where she started crafting and animating workshops mixing performing and visual arts, to explore new ways to play and learn in Europe and beyond. In the meantime, she lived in Greece, Brazil, Seychelles, Portugal and many more countries, experimenting with playful ways to interact and discover one another in multilingual or non verbal settings. Along the way, she collected myriads of tools & methods for collaborative creation, specializing in team dynamics and project design using art, movement and stories to foster cooperation & social action.
Ok, got it… sign me up!
Follow this link to register – please answer all the questions:
https://jonglirium.typeform.com/to/gvMWnC
Contact:
Marta Witecka – Project Coordination & Participants communication
Tel: +49 176 85633269
email: marta [äät] jonglirium.com
…………………………………………………………………
Scheduled
Events and Workshops